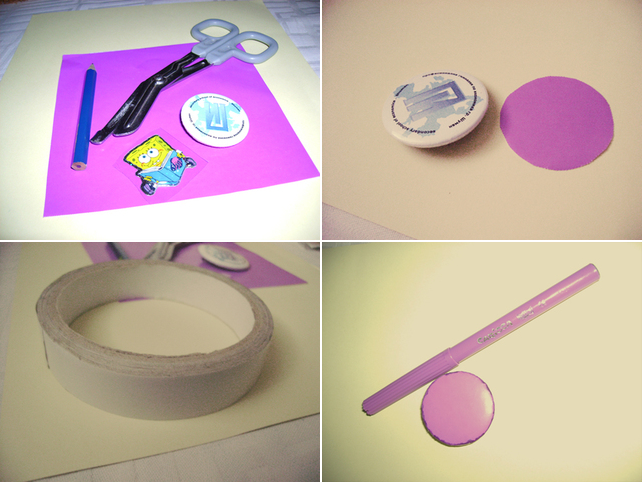 How to make it?
First of all you need to turn the badge and put it on the piece of glossy paper in order to outline it on the sheet with the pencil. Than you cut the paper circle with the size of the badge. Gently cut pieces (usually two are enough) of the double-sided tape, which you put on the badge's face. Once you unstick the upper part of the tape you have to put the paper circle on top of the badge and press it until it sticks. Use a little scissor to cut the unneeded paper of the badge's edges.
I choosed to use a darker felt pen of the same color for the edges and outline them so they could look like they're burned or something, but this is optional. Now your badge should looks like this:
At the end, all you need it to put the 3D (or ordinary) sticker in the middle, on top of it.
Don't forget to see where the needle behind it must go and stick it in the right direction so once you put it on, the sticker won't be upside down!
I used a Sponge Bob sticker, but you can use any other. You can find all kinds of stickers in the closest bookstore, they're not expensive at all! (You can also use something else and stick it with glue, but I recommend a sticker because it has shine and looks better)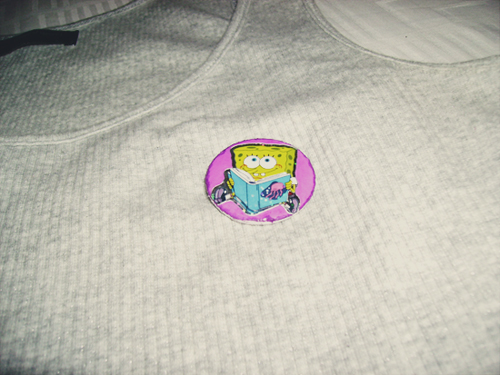 Done!
Now your badge accessory is ready and it can adorns your blouse or bag :)