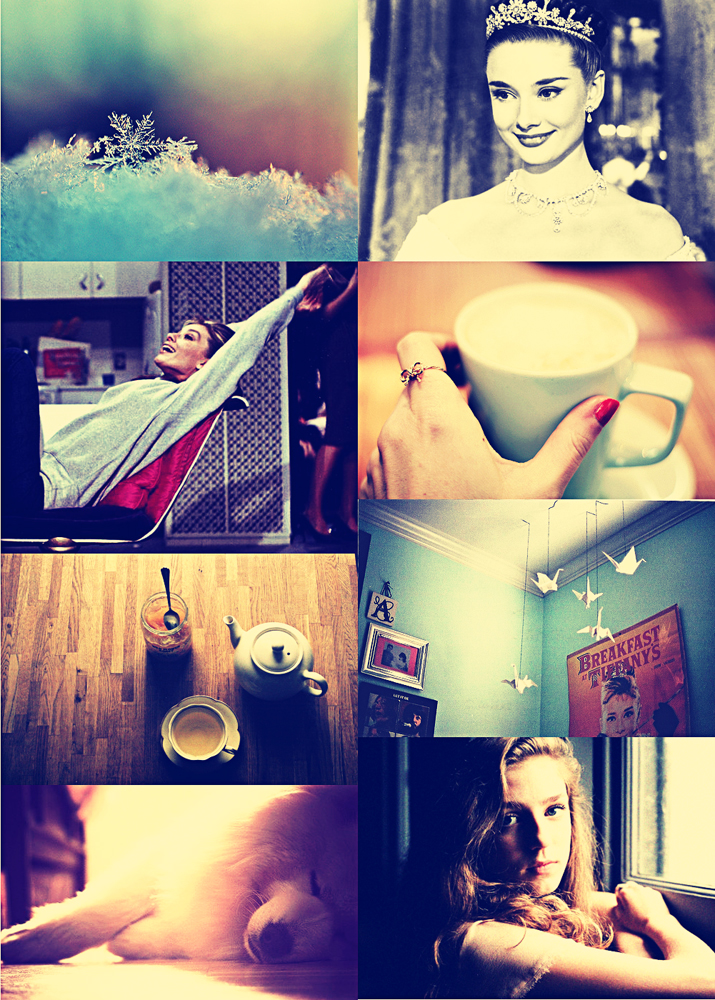 Oh, I want summer! I want an early summer at New York in the 60's...
As it's still too cold and snowy in here, it even decided to rain today... It became foggy and windy, but I was dreaming and watching outside the window from my cosy bed. Getting up early is not really my thing, but if they show "Breakfast at Tiffany's" on TV only once a year, getting up early becomes a ritual. While I was drinking my cup of hot coffee and enjoying the movie, I couldn't help it but think how much Audrey Hepburn's character (Holly Golightly) represents me. My temper, my moods, my habits, my way of thinking and seeing the world... The way Audrey puts the exact amounts of clumsyness, naivety and charm in her role always fascinates me. Later I also watched "Roman vacation" for the second time... I recommend them both, especially if you love old movies like me! By lunch time, after my mandatory cup of tea for the day, something quite strange happened when I heard my mom yelling "A dog! A samoyed!" by looking at the yard outside the bilding (in here I should mention that samoyeds are the most amazingly adorable creatures on Earth and my favorite breed), so I was completely shocked when I saw the huge, fluffy white thing, running in the yard all alone. I kept looking at it and calling it from the window, wondering how a lost dog of my favorite breed shows up right in my yard, infront of my home?! I wasted few minutes looking for my camera (unsuccsessfully) and putting my boots on to go outside, but until I was able to, the dog escaped and I ended up running around the whole building, in order to catch it, but I lost it of my sight and never saw it again... I kept looking trough the window the whole day, but the samoyed never showed up again and I never even managed to touch it or take a photo. :/ Wasn't that strange? Or I'm going crazy. Well, at least I made a nice discovery later on! A music discovery. Just a random Youtube video, of an artist named Birdy (UK singer), which amazed me a lot. I was even more surprised that the girl is only 15 years old! Than I heard few more songs by her and liked them all, actually. The music's kinda melancholic, but not sad, the melody is beautiful and the lyrics are quite meaningfull. Her first album was released November 2011, so you may call her a completely new, but very talanted performer...
"Shelter"
"People help the people"