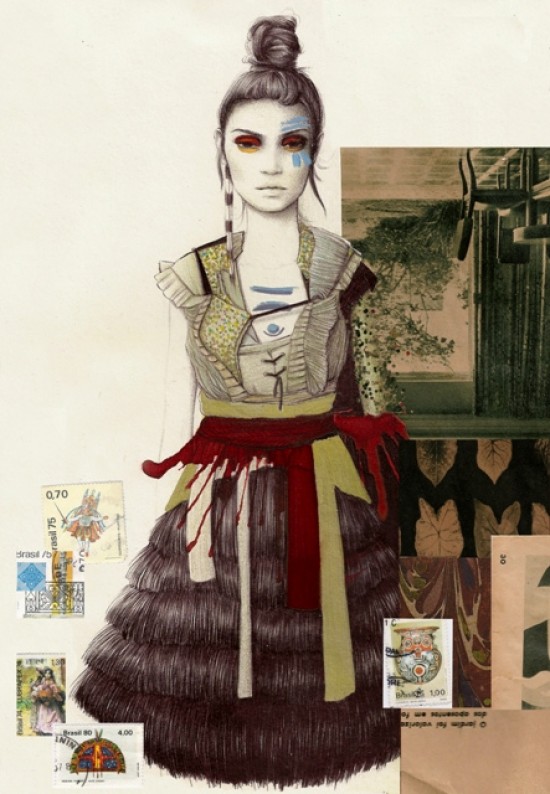 Due to the fact that I don't blog at all lately, for which I am terribly GUILTY, my mind came up with one of the latest inspiring ideas to fill up my blog ~which nobody reads~ with! This is only one of the few ideas, I personally find pretty original and different for myself, so I hope you like it too... There'll be many new "rubrics" of this type such as interviews with inspiring people, photography and shooting stories, interesting facts, fashion connected posts etc.
So "Artist of the month" will include some of the work of famous or not so famous artists(plus a short bio if I'm able to find such), who I found on the internet and liked, so I'll be sharing one artist's work each month. That of course means I will point out the source and the painter's name, so I don't claim I own any of the artworks or whatsoever.
Today I "stumbled" upon some beautiful, hand-made drawings, which caught my eye with their vibrant colors, splashes and patterns and with the beautiful, feminine way the girls are depicted, like queens of nature...
This month's artist is CAMILA ROSARIO.
She was born in 1988 in Joinville. When eighteen she went to study fashion Florianopolis UDESC. Soon she dropped the course to devote herself to drawing only. She had designs published in magazines, such as Serafina, Rolling Stone and Zupi and won the first contest, sponsored by the magazine illustrator Marie Clarie and IED Barcelona. She currently lives in Sao Paulo.